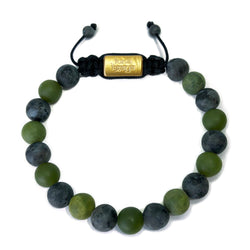 LUNA LIGAYA
Jade and Black Labradorite 8 mm
LABRADORITE THE MAGICIAN  
AWARENESS • ILLUMINATION • CURIOSITY
Labradorite is said to be a stone of magic and curiosity that helps you tap into a higher state of consciousness. Connect with it to become more self-aware and explore the expanded states of the universe. Labradorite gives you strength and wisdom through transformational periods.
JADE THE LUCKY CHARM
WEALTH • SUCCES • WISDOM
Jade is the stone of luck and good fortune. It opens your heart to all the wisdom and prosperity and brings confidence and emotional balance. It is said to bring good fortune in the shape of prosperity, love wealth as well as happiness and friendship.
Please note that all our pieces are crafted by hand and the gemstones are unique, they may therefore vary slightly in size, shape, and colour.