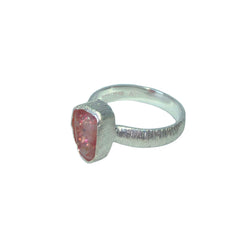 LUNA LIGAYA
Sunstone 925 Silver
Handcrafted matt 925 Sterling Silver ring with a rough hand-cut Sunstone gemstone.
SUNSTONE THE LIGHT BEARER
POSITIVITY • HAPPINESS • CREATIVITY
Sunstone promotes energy, vitality, and creativity. A joy-inspiring gemstone that instills positivity and happiness in your life. Sunstone is thought to be a stone of  personal power, expanded consciousness and leadership. It reflects the qualities of light beautifully bringing openness, warmth, strength and clarity of thought and mind.
Please note that all our pieces are crafted by hand and the gemstones are unique, they may therefore vary in size, shape, and colour. This is very much part of the charm of handcrafting, as it ensures that your amulet is unique.