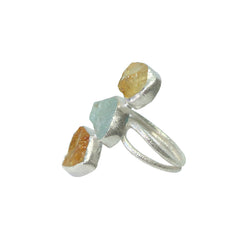 LUNA LIGAYA
Triple Stack Citrine and Aquamarine 925 Silver
Handcrafted matt 925 Sterling Silver ring with rough hand-cut Citrine and Aquamarine gemstones.
CITRINE THE LIGHT MAKER
POSITIVITY • HAPPINESS • ABUNDANCE
Citrine brings sunshine into your life. Its radiant energy cultivates positivity, growth and abundance. It is one of the only crystals that does not store any negativity.  Working with it infuses your soul with happiness and light to open you up to the new opportunities and positive possibilities that already surround you.
AQUAMARINE THE TRANQUILIZER
TRANQUILITY • REDUSES STRESS • BALANCE
Aquamarine resonates with the calming energy of the ocean, helping you to connect with the natural energy and spirit of the element of water. It brings calm, compassion, spiritual awareness and development. 
Please note that all our pieces are crafted by hand and the gemstones are unique, they may therefore vary in size, shape, and colour. This is very much part of the charm of handcrafting, as it ensures that your amulet is unique.