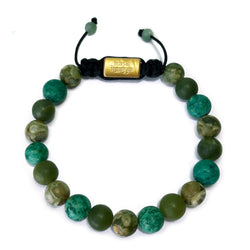 LUNA LIGAYA
Green Rhyolite, Jade and Agate 8 mm
RHYOLITE THE RAINFOREST STONE  
CHANGE • POSITIVITY • CREATIVITY
Rhyolite sparks creative energies to help you break through any barriers that are holding you back. It carries a joyful, positive energy that brings energies of happiness, hope and joy. It facilitates self realisation and encourages the creative forces that releases ones untapped potential.
JADE THE LUCKY CHARM
WEALTH • SUCCES • WISDOM
Jade is the stone of luck and good fortune. It opens your heart to all the wisdom and prosperity and brings confidence and emotional balance. It is said to bring good fortune in the shape of prosperity, love wealth as well as happiness and friendship.
CRAZY AGATE THE UPLIFTER
HAPPINESS • OPTIMISM • LAUGHTER
Crazy Agate is the stone of laughter. It is also called Happy Agate because it is believed to absorb negative feelings and to bring Happiness. Crazy Agate is also believed to be a stone which brings good luck and helps overcome obstacles. It balances body and mind, helping make wise decisions.
Please note that all our pieces are crafted by hand and the gemstones are unique, they may therefore vary slightly in size, shape, and colour.