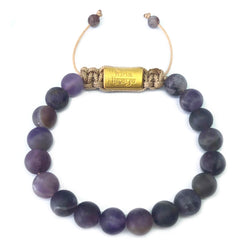 AMETHYST THE INTUITIVE EYE

TRUST • INTUITION • SPIRITUALITY

Amethyst healing properties is thought of mostly as a protective stone. It is linked to the crown chakra, making it helpful to purify ones mind and clearing it of negative thoughts, negativity of stress and anxiety. Amethyst activates spiritual awareness, opens intuition and enhances psychic abilities. It has strong healing and cleansing powers.
Please note that all our pieces are crafted by hand and the gemstones are unique, they may therefore vary slightly in size, shape, and colour.