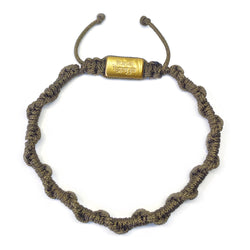 LUNA LIGAYA
Coffee Mantra Bracelet
COFFEE MANTRA - THE ONE FOR YOU
ENLIGHTENMENT • HEALING & SELF-CONFIDENCE • COMPASSION  • COURAGE & STRENGTH • LOVE & ATTRACTION
The Mantra Bracelets are knotted specifically for you upon order. They are knotted while reciting your chosen mantra, to ensure that your Amulet is customised with the energy to fit your needs - creating the best balance for you. 
Read about Mantras and their energies here
Please note that all our pieces are crafted by hand and the gemstones are unique, they may therefore vary slightly in size, shape, and colour.