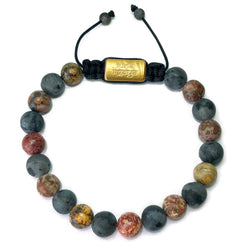 LUNA LIGAYA
Leopard Skin Jasper and Black Labradorite 8 mm
LABRADORITE THE MAGICIAN  
AWARENESS • ILLUMINATION • CURIOSITY
Labradorite is said to be a stone of magic and curiosity that helps you tap into a higher state of consciousness. Connect with it to become more self-aware and explore the expanded states of the universe. Labradorite gives you strength and wisdom through transformational periods.
LEOPARD SKIN JASPER THE SELF-HEALER  
SELF-HEALING • GROUNDING • STRENGTH
Leopard Skin Jasper is said to assist in self-healing and spiritual discovery. It's a powerful protection stone that will keep the negative energies away. Like the rest of the Jasper stones, Leopard Skin Jasper will give you strength and vitality.
Please note that all our pieces are crafted by hand and the gemstones are unique, they may therefore vary slightly in size, shape, and colour.