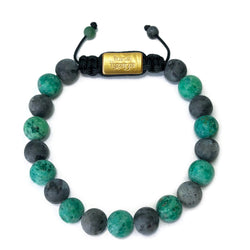 LUNA LIGAYA
Sea Green Natural Crazy Agate and Black Labradorite 8 mm
CRAZY AGATE THE UPLIFTER
HAPPINESS • OPTIMISM • LAUGHTER
Crazy Agate is the stone of laughter. It is also called Happy Agate because it is believed to absorb negative feelings and to bring Happiness. Crazy Agate is also believed to be a stone which brings good luck and helps overcome obstacles. It balances body and mind, helping make wise decisions.
LABRADORITE THE MAGICIAN  
AWARENESS • ILLUMINATION • CURIOSITY
Labradorite is said to be a stone of magic and curiosity that helps you tap into a higher state of consciousness. Connect with it to become more self-aware and explore the expanded states of the universe. Labradorite gives you strength and wisdom through transformational periods.
Please note that all our pieces are crafted by hand and the gemstones are unique, they may therefore vary slightly in size, shape, and colour.