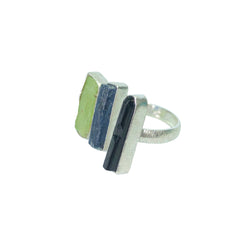 LUNA LIGAYA
Triple Green and Blue Kyanite and Black Tourmaline 925 Silver
Handcrafted matt 925 Sterling Silver ring with a rough hand-cut Green and Blue Kyanite, and Black Tourmaline gemstone.
KYANITE THE WELL-BALANCED
SPIRITUALITY • BALANCE • TRANQUILITY
Brings clarity and tranquillity. A very calming stone that can be perfect in times of stress or when you're anxious. Balances emotions and brings a clear mind so that you can work through your problems rationally.
BLACK TOURMALINE FORCEFIELD PROTECTOR
PROTECTION • SECURITY • STRESS RELIEF
Wherever you happen to be on your spiritual journey, Black Tourmaline is an excellent crystal for everyone because it's the bodyguard stone that provides protection and elimination of negative energy. 
Please note that all our pieces are crafted by hand and the gemstones are unique, they may therefore vary in size, shape, and colour. This is very much part of the charm of handcrafting, as it ensures that your amulet is unique.