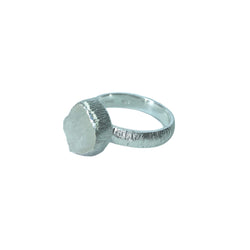 LUNA LIGAYA
Rainbow Moonstone 925 Silver
Handcrafted matt 925 Sterling Silver ring with a rough hand-cut Rainbow Moonstone gemstone.
MOONSTONE THE DESTINY MAKER
DIVINITY • NEW BEGINNINGS • DESTINY
Whether you're looking to enhance fertility, birth a new project or just begin again, Moonstone is a stone of new beginnings. Connecting you with the energy of the divine feminine, it helps you unlock the energy of the Moon that resides within you to help you become more in tune with yourself.
Please note that all our pieces are crafted by hand and the gemstones are unique, they may therefore vary in size, shape, and colour. This is very much part of the charm of handcrafting, as it ensures that your amulet is unique.