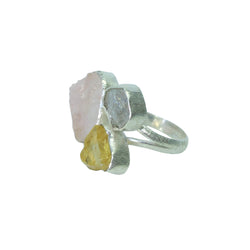 LUNA LIGAYA
Triple Grande Rose Quartz, Herkimer and Citrine 925 Silver
Handcrafted matt 925 Sterling Silver ring with a rough hand-cut Rose Quartz, Herkimer and Citrine gemstone.
ROSE QUARTZ THE LOVE MAGNET  
UNCONDITIONAL LOVE • HAPPINESS • PASSION
Rose Quartz is a stone of warmth, gentleness, acceptance and love. It encourages self acceptance, self love, confidence and personal worth. Rose Quartz is said to open the heart to the beauty within and all around us, and will begin its healing by helping forgiveness. It encourages kindness on all levels. 
HERKIMER THE ATTUNED
HEALING • ATTUNEMENT • POWERFUL
Herkimer Diamonds is also known as the Stone of Attunement because it can help you attune to any situation or environment and put you at ease. This powerful stone is also capable of strengthening the benefits of other stones. 
CITRINE THE LIGHT MAKER
POSITIVITY • HAPPINESS • ABUNDANCE
Citrine brings sunshine into your life. Its radiant energy cultivates positivity, growth and abundance. It is one of the only crystals that does not store any negativity.  Working with it infuses your soul with happiness and light to open you up to the new opportunities and positive possibilities that already surround you.
Please note that all our pieces are crafted by hand and the gemstones are unique, they may therefore vary in size, shape, and colour. This is very much part of the charm of handcrafting, as it ensures that your amulet is unique.