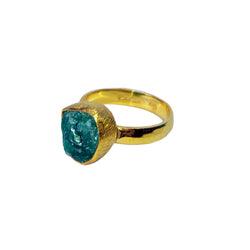 LUNA LIGAYA
Green Quartz 18K Vermeil
Handcrafted
18K Gold plated
925 Sterling Silver ring, with a rough hand-cut green Quartz
 gemstone.
GREEN QUARTZ THE EMPATHIZER 
PROSPERITY • CREATIVITY • EMPATHY
Green Quartz is known to attract prosperity and success and to stimulate one's creativity. Carrying Green Quartz will help to activate the Heart Chakra, and impart a sense of wholeness to the owner - It helps one to feel empathy and universal love for others.
Please note that all our pieces are crafted by hand and the gemstones are unique, they may therefore vary in size, shape, and colour. This is very much part of the charm of handcrafting, as it ensures that your amulet is unique.